Sure we've had a couple of beautiful days and some sensational foliage to enjoy, but this week we've also seen some huge rains, wind storms that reached tornado strength at the coast, and a lot of gloomy skies.
Which means just one thing to me.
Soup weather.
Every year it's the same; as soon as I'm ready to put away my flip flops and sunscreen it seems like I reach for my slow-cooker or stockpot and start making soup.
Not only is a bowl of soup the perfect thing to warm you up and cheer you up on an overcast and nippy day, it's the perfect calling card to bring to friends you haven't seen in a while –or who are under the weather themselves.
It's my experience that while some people may eschew gluten or sugar, I've yet to meet the person who'll turn down a bowl of soup (and if it's vegetarian, it's accepted 100 percent of the time).
Let me show you some of the soups that have been coming out of my kitchen these last two weeks.
First up, a Green Chile Chicken Soup.
I started off with some plump chicken breasts
and simmered them all day long in a slow-cooker with Green Chile Sauce, garlic, some wine and some chicken stock.
I added a little cooked basmati rice, lots of lime, and topped with fried fava beans, tomatoes and cilantro.
Ah, such rib-sticking goodness on my hands.
I brought this soup to a number of pals, saving the last couple bowls for my own lunches that week.
Okay, next up.
An Indian Curried Butternut Squash Bisque.
This one was particularly easy.
Almost everything for this soup is thrown in the oven to roast — squash, leeks, onions and garlic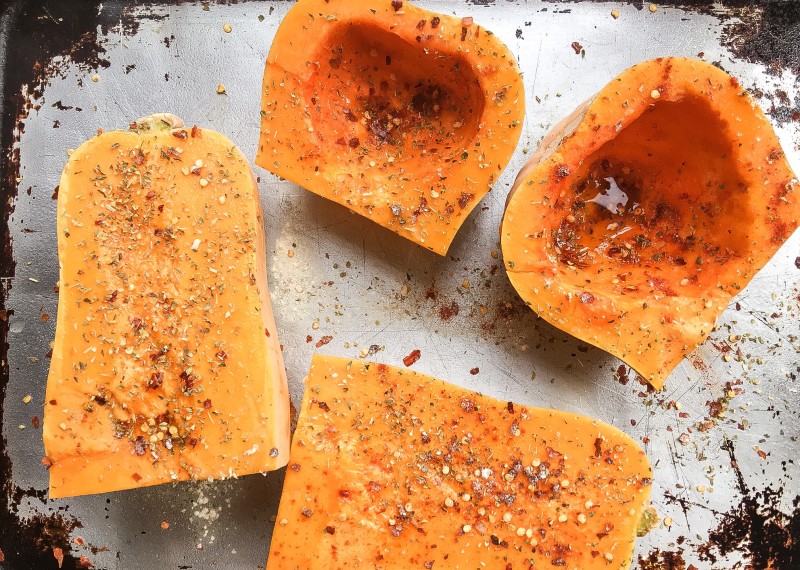 and after thirty minutes everything but the squash is pulled out. Twenty minutes or so later the squash is fork tender, and I pull that out, too. Once the squash is cool enough to handle, I peel off the skin of the squash with my fingers– it comes right off and this is so much easier (and less dangerous!) than cutting or peeling the skin off aforehand.
I pureed all these vegetables in my Vitamix with some coconut milk and stock and then I put it all back into the pot to simmer for about thirty minutes. I added some more spices (I used cardamom, coriander, cumin and fresh ginger) and this little bit of time in the pot allowed the flavors to mellow and take hold.
I had some leftover quinoa and roasted fennel from dinner the night before so that went in the pot in the last fifteen minutes of simmering.
I loved this soup topped with roasted cashews and chopped herbs (parsley, mint or cilantro would be good here).
And then yesterday, I made a black bean chili/soup.
I soaked two pounds of black beans overnight and then rinsed them off. Into a big pot they went with diced tomatoes, sauteed onions, fresh garlic, and dried chipotle peppers and oregano and some water.
When the black beans were tender, I pureed some of them and left some whole as I like my soup neither too chunky nor too smooth.
All it needed was a salt and pepper adjustment and a splash of rice wine vinegar; when I cooked at Greens we often added a little vinegar to the restaurant's black bean chili. It tends to pull all the flavors together and brightens it considerably — and now I often use that same trick with most of my soups.
It's amazing how just a tiny bit of acid will bring a whole soup into focus.
I made a huge pot and started dropping off soup all over my neighborhood.
I have one friend who just tore her ACL and her MCL so I brought her some.
I have another friend whose husband is battling a serious illness, so they got both got some soup love.
Another neighbor just gave birth — so her and her folks visiting from New York got a delivery, too.
And I still had enough to enjoy for lunch today — and squirrel away the two last servings for when another girlfriend is coming over for lunch next week.
A successful week or two of cooking. One pot efforts. And so many mouths fed.
So I urge you to look outside your nest.
Is there someone around you who could use a bowl of homemade goodness?
Remember, soup is but a few steps away.