Fall is officially here –and gone are the carefree days of figuring out meals on the fly with whim driving the cooking bus.
Life routines and schedules just got real.
It's obviously a busier time now (early mornings followed  by school, homework, clubs, regular activities) and that means I need to be a little bit more organized when it comes to meal-making.
I won't be as disciplined as a number of friends who shop weekly and know what they'll be eating, say a week from Thursday (yes, Elona, I'm thinking of you and meatball nights), but I do try to make sure that my pantry and fridge is fairly full so that I can pull together a big meal for my crew or lunch for girlfriends based on what I have on hand.
And if there is one store above all others that for me combines value, variety and conveniently sized packaging, it's this place.
Friends know that I love me some Costco and New Seasons, too, but I also head to Trader Joe's weekly to buy so many things. I can't tell you how many times, though, that I've been asked about this store and heard people's confusion as to what to purchase there.
Really?
How about one of everything?
Okay, for those who are curious, here's a round-up of some of my favorite products from here– especially this time of the year.
Follow my advice now and stock up; it's always so much easier to pull together a quick meal or be able to bake up something special when you have these items on hand.
And so in no particular order,
10 Items you Should Buy Right Now from Trader Joe's to Jump Start your Fall Kitchen.
ONE. Sausages.
In case you didn't know, TJ's has a fairly sizable selection of sausages and all the ones I saw are under $4. I think the kinds vary by location, but here's one of my favorites.
These Andouille Sausages are spicy but not blinding and the seasoning is just spot on.
If I have these sausages in the house I've got the starter for a terrific pasta or risotto or a filler for hearty sandwiches on crusty bread. These sausages are also so good with warm lentils– and because they are fully cooked, they heat up in no time with no worries of uncooked meat.
Here's another kind I like.
They're perfect for a hearty brunch or even Breakfast for Dinner (yes, we do that too sometimes).
If I make eggs, sausages, smoothies, and a few muffins, my lazy (but delicious) dinner is done.
TWO. Canned Beans.
I love all TJ's canned beans as they all have a firm structure, great taste and they're never too slimy with packing liquid.
I stock up on all of these so I can make things like this fresh humus and salad in minutes.
Or this.
Or this.
THREE. Salad Greens.
TJ's has so many different kinds of salad greens, and here are a few of my favorites.
Arugula is terrific as a light salad with fennel or floated atop a prosciutto pizza or a slew of warm crostini.
I love this combo of butter lettuces and radicchio.
It's so wonderful with white beans or goat cheese and a light vinaigrette.
It seems like all the time TJ's is expanding their selection and for those really pressed for time, they offer an impressive number of salad kits, with everything you need (dressings and toppings) in one bag for one bowl goodness (I haven't tried them yet but I'm sure they too are worthy of attention).
FOUR. Various Cheeses.
TJ's is my preferred spot to stock up on a good number of my favorite cheeses and here are the three I always have on hand.
This feta is the creamiest, most velvety one I've ever had.
It's incredible and I'm addicted to it.
I also love this goat cheese.
It's wonderful tucked under the skin of a chicken breast and baked until oozy and golden.
Or even when just warmed through and served alongside a simple salad.
And I always have  Manchego on hand because it's our go-to for snacking and school lunches.
Turns out Manchego is also fantastic grated atop mini Turkey Prosciutto meat loaves.
FIVE. Pumpkins and Squash.
The price of these enormous ornamental pumpkins can't be beat ($5.99) and so is that of all their various squash (prices ranging from $1- $2 dollars a piece).
Butternut squash and acorn squash  seem to last forever in a cool dry place, and I always have these on hand at this time of year (and often several).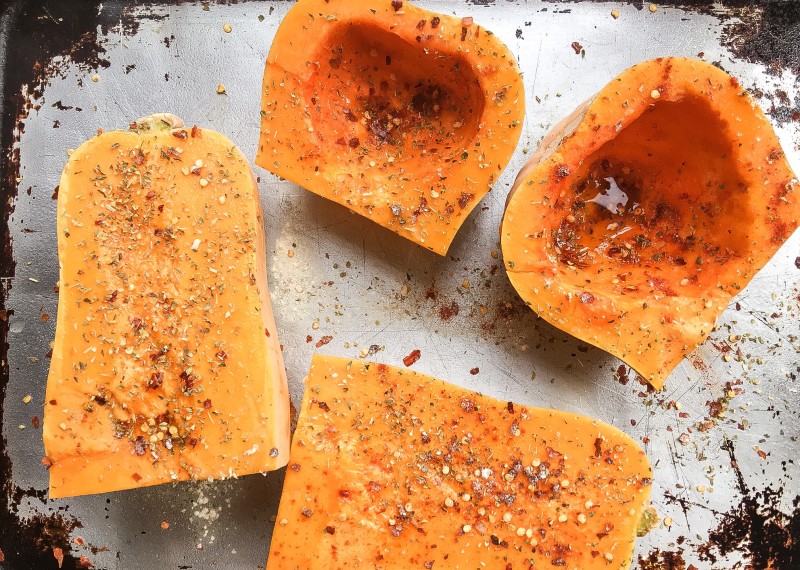 This allows me to make a quick stew, soup or side dish at the drop of a hat.
Tossed with potatoes and roasted until crispy, squash also makes a scrumptious side dish alongside a simple roast chicken.
SIX. Fresh Pizza Dough.
Yes, I sometimes make my own pizza dough.
No, I'm not so foolish that I don't see a good thing when I see it, and TJ's offers three different kinds of very respectable refrigereated dough for a buck and change.
I like to sock it away in the freezer and let it defrost overnight or even on the counter if I need it sooner, meaning I'm never that far away from making something like this.
(Movie nights plus Semi-Homemade Pizza are the bomb.)
I've also used this dough to make rolls, calzone and pesto-cheese twists.
SEVEN. Oils and vinegars.
TJ's may not have every single oil and vinegar you might want to add to your pantry (I'd be over the moon if they started carrying sherry vinegar) but they have most of those you'd likely use on a day-in, day-out basis: many different olive oils, vegetable, canola and coconut and sesame (a bargain at just a few dollars for a fresh fresh toasted product) plus wine vinegars, balsamic and more.
Think these are just good for salads?
I use my oils and vinegars for so much more.
I use them as bases for marinades for meats, like this sesame, soy and tangerine one for chicken.
And as quick sauces for vegetables and noodles.
Or to make a quick dipping sauce for wontons and brochettes or to flavor vegetables heading into the oven for a high-temp roast.
Stock up and don't forget the apple cider vinegar– it's my secret, last minute addition to many fall soups (just the tiniest bit enlivens the finished flavor).
(BONUS TIP: TJ's sells a great buttermilk and I usually have this on hand, too, for everything from vinaigrettes, marinades, cakes, pancakes and world's best biscuit recipe).
And if like me you look forward to a lot of fall baking, TJ's has your back there, too.
EIGHT. TJ's Chocolate.
Let's start with their Pound-Plus Bars: they are less than five dollars and they all feature fantastic Belgian chocolate.
I use these bars for so many things.
Bark.
Puddings and custards.
And to adorn family favorites.
And these chunks below are amazing in cookies.
Their generous, irregular shape are both striking and lip-smackingly good.
NINE. Select seasonal ice creams.
Trader Joe's has a very small selection of ice cream available, but their Salted Caramel Gelato is fantastic.
If you've got this stashed away, you've got the perfect accompaniment to your Chocolate Buttermilk Cake.
And with a scoop of this gelato, you're ready to send that next Apple Crisp into the dessert stratosphere.
TEN. Last but not least, affordable food gifts.
Chances are if you are a friend of mine, I've a pretty good idea what your edible weakness is, be it Thai cashews, dark chocolate caramels, Australian licorice or a certain flavor of Kombucha.
If I'm sending a care package, I'll stop here and find a couple things to add to it.
And if you're an overnight guest in my home, you may have arrived a little hungry or head off to bed looking for a little something.
Chances are there is something for you from TJ's alongside fresh towels and water.
For the most part, the quality of all their items are outstanding, and often they seem to offer familiar copycats (if not exact replicas) of a number of treats that cost a lot more elsewhere.
Like these Toffee Chips which seem nearly identical to something offered at See's Candies.
So what am I missing?
Do you have some other Trader Joe's must-buys for your fall kitchen?
Write me directly or add in the comment suggestion: gluttonous minds want to know.