It's funny when you find yourself eating almost the exact same dish you made decades ago.
I guess some homemade dishes just resonate with you — and so year after year you return to them. They spell comfort, familiarity and a happy co-existence with your gut, and you've made it so often that you can crank it out in your sleep.
Greens Restaurant's Black Bean Chili is that dish for me.
You see, about twenty five years ago I had the pleasure to be one of the cooks there; I started out doing kitchen prep at Greens part-time as I put myself through a San Francisco cooking school.
When I graduated from school, I started working there full-time and over the next two years I worked my through the various stations: prep, saute, pizza, brunch baker, salads/appetizers, soups/stews, grill, and then finally cooking for their fancier prix fixe menu.
I loved all the various stations at Greens, and I couldn't have asked for a more respectful, compassionate crew.
Deborah Madison had since moved on, but Annie Somerville was the Executive Chef and a guy named Jay ran the kitchen. Everyone on that staff was so generous in teaching me all that they had learned in their cooking careers.
How to season food properly. How to extract maximum flavors from vegetables and legumes through roasting, sauteeing, blanching or grilling. How to balance the acid in a finished dish.  The basics of plate composition.
I also learned about production, and how you couldn't lose accuracy as you picked up speed.
Those were good years, and I remember fondly at the end of the shift helping myself to a big bowl of the black bean chili for which they are so famous — and I never tired of it.
Some days we would sell out of the giant batch we made fresh daily — but I knew I could always grab a bowl the next time.
To this day, I still make a big pot of this chili quarterly. 
I usually eat a big bowl right away, package up and deliver some for those in my orbit and then freeze the last couple bowls for later (like when I could really use a bowl of smoky comfort on a busy day).
I've made it so often that I no longer need to refer to the recipe, but I've included the cookbook version at the bottom of this post for those who want to replicate it at home.
The thing that's so interesting about this soup is it's vegetarian and gluten-free but tastes rich with a depth of flavor and heft one doesn't often encounter in these kinds of soups.
It's not reliant on the easy thrill of smoked sausage or ham to give it instant gravitas but something about the combination of smoky dried peppers, tomato and a full-developed sauteed onion and spice base makes it lip-smacking and deeply satisfying.
Serve it thick as a stew or thin it with a little stock or water for a hearty smoky soup.
Oh — and if you forgot to soak the beans overnight as I often do, not to worry.
Just bring the beans to a boil, turn off the heat, and let them soak for an hour. Drain and rinse thoroughly — and then proceed as you would otherwise (they may just need a little extra time cooking).
In yesterday's version of this chili, I thought I'd tweak it a bit. I had a butternut squash on hand — and I thought roasted chunks would add sweetness and color to an already great soup.
And here's my tip of the day.
Do you hate to peel or cut off the thick skin of the butternut squash?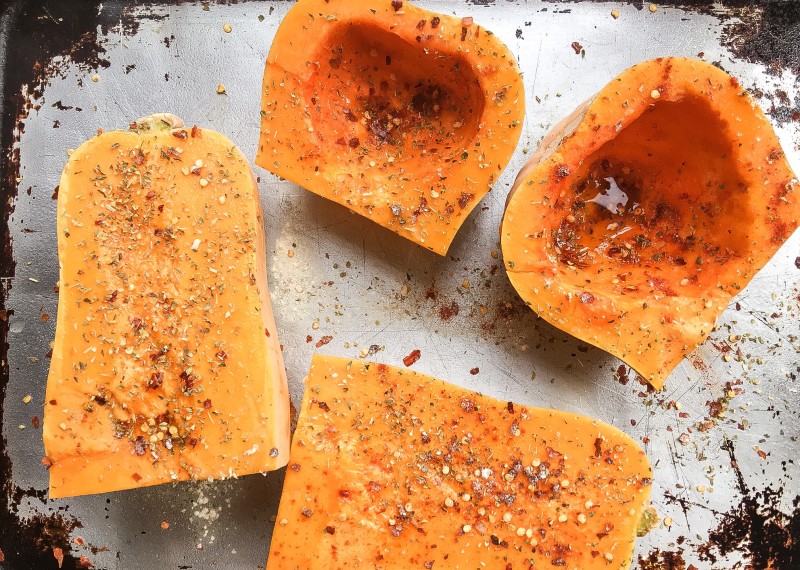 Me too. It's onerous — and somewhat dangerous if you are using a sharp knife, so I don't do it anymore.
Yes, I never peel my butternut squash anymore — but I don't buy it packaged in pre-cut cubes, either.
Do you want to know my secret?
Yes, my oven does my work for me.
Whenever I want to add butternut squash to something, I cut it into a couple pieces (the scooped out bulb plus the longer, thicker neck), season to the hilt, and then roast away.
Cutting the squash into different thicknesses means you can pull out the thinner bulb part first and then let the thicker part roast for another ten minutes or so until fork tender.
When it's cooked through, you can just scrape off the skin in seconds — and there is very little waste (whenever I cut it off before cooking I'd inevitably cut off far more than I needed to).
Just peel and cut and you're  good to go.
Not only is this much much easier, but you also have the added flavor benefit of caramelized roasting — and I find that roasted squash is always so much more interesting than blanched or sauteed (and it's neither water-logged or prone to greasiness).
By the time my squash was roasted and cut up, my Black Bean Chili was done and so into the batch it went.
Grated sharp cheddar, a little green onion and a dollop of yogurt was all it needed (but if I'd had cilantro and ripe avocado, I would've added that, too).
Oh, don't forget those Juanita's Tortilla Chips. They are a must with this chili and since they're a local brand available everywhere, it'd be ridiculous to not include them.
So one big batch of soup.
Lunch for me.
Lunch for my friends awaiting them on their doorstep.
And a freezer full of mini-bags for my own later enjoyment.
Now that's what I call a win, win, win.
Enjoy, friends.

GREENS RESTAURANT BLACK BEAN CHILI
I've included the recipe exactly as it appears in the cookbook, but feel free to save yourself some time like I do and just substitute the chilis and the chipotle for just ground chili powder (I used a combination of ancho and chipotle). Also, if your ground cumin and the rest of your spices are fresh, no need to refresh with a pan toasting. Play around with the rice vinegar as it is the lovely counterpoint to all the smokiness of the dish; cider vinegar also works well here.
Author:
Deborah Madison and Edward Espe Brown
Ingredients
2 C. black turtle beans, soaked overnight
1 bay leaf
4 tsp. cumin seeds
4 tsp. dried oregano
4 tsp. paprika
½ tsp. cayenne pepper
1 chili negro or ancho chili, or 2-3 Tbs. chili powder
3 Tbs. corn or peanut oil (I used vegetable or canola)
3 medium yellow onions, diced into ¼ inch squares
4 cloves garlic, coarsely chopped
½ tsp. salt
1½ lb. ripe or canned tomatoes, peeled, seeded and chopped (i just used canned diced and pureed the whole lot)
1-2 tsp chopped chipotle chili (if you don't have, just use a bit more chili powder)
about 1 Tbs. rice wine vinegar (I like to double that)
4 Tbs. cilantro, chopped
Suggested Garnishes:
½ -3/4 C. muenster cheese, grated (I prefer sharp cheddar)
Green chilies (fresh roasted and diced or canned, rinsed well and diced, about 2 oz.)
½ C. creme fraiche or sour cream
cilantro
Instructions
Sort through the bean and remove any small stones. Rinse them well, cover them generously with water, and let them soak overnight. Next day, drain the beans, cover them with fresh water by a couple of inches, and bring them to a boil with the bay leaf. Lower the heat and let the beans simmer while you prepare the rest of the ingredients.
Heat a small heavy skillet over medium heat. Add the cumin seeds, and when they begin to color, add the oregano leaves, shaking the pan frequently so the herbs don't scorch. As soon as the fragrance is strong and robust, remove the pan from the heat and add the paprika and the cayenne. Give everything a quick stir; then remove from the pan -- the paprika and cayenne only need a few seconds to toast. Grind in a mortar or a spice mill to make a coarse powder.
Preheat the oven to 375 degrees. To make the chili powder, put the dried chili in the oven for 3 to 5 minutes to dry it out. Cool it briefly, then remove the stem, seeds and veins.
Heat the oil in a large skillet, and saute the onions over medium heat until they soften. Add the garlic, salt and the ground herbs and chili powder and cook another 5 minutes.
Add the tomatoes, their juice, about 1 teaspoon of the chipotle chili. Simmer everything together for 15 minutes; then add this mixture to the beans, and if necessary, enough water so that the beans are covered by at least 1 inch. Continue cooking the beans slowly until they are soft, an hour or longer, or pressure cook them for 30 minutes at 15 pounds pressure. Keep an eye on the water level and add more, in needed, to keep the beans amply covered.
When the beans are cooked, taste them, and add more chipotle chili if desired. Season to taste with the vinegar, additional salt if desired, and the chopped cilantro.
Serve the chili ladled over a large spoonful and grated cheese and garnish it with the creme fraiche or sour cream, the green chilies and a sprig of cilantro